PRO CUP: Walker Motorsports Pro Cup Team Website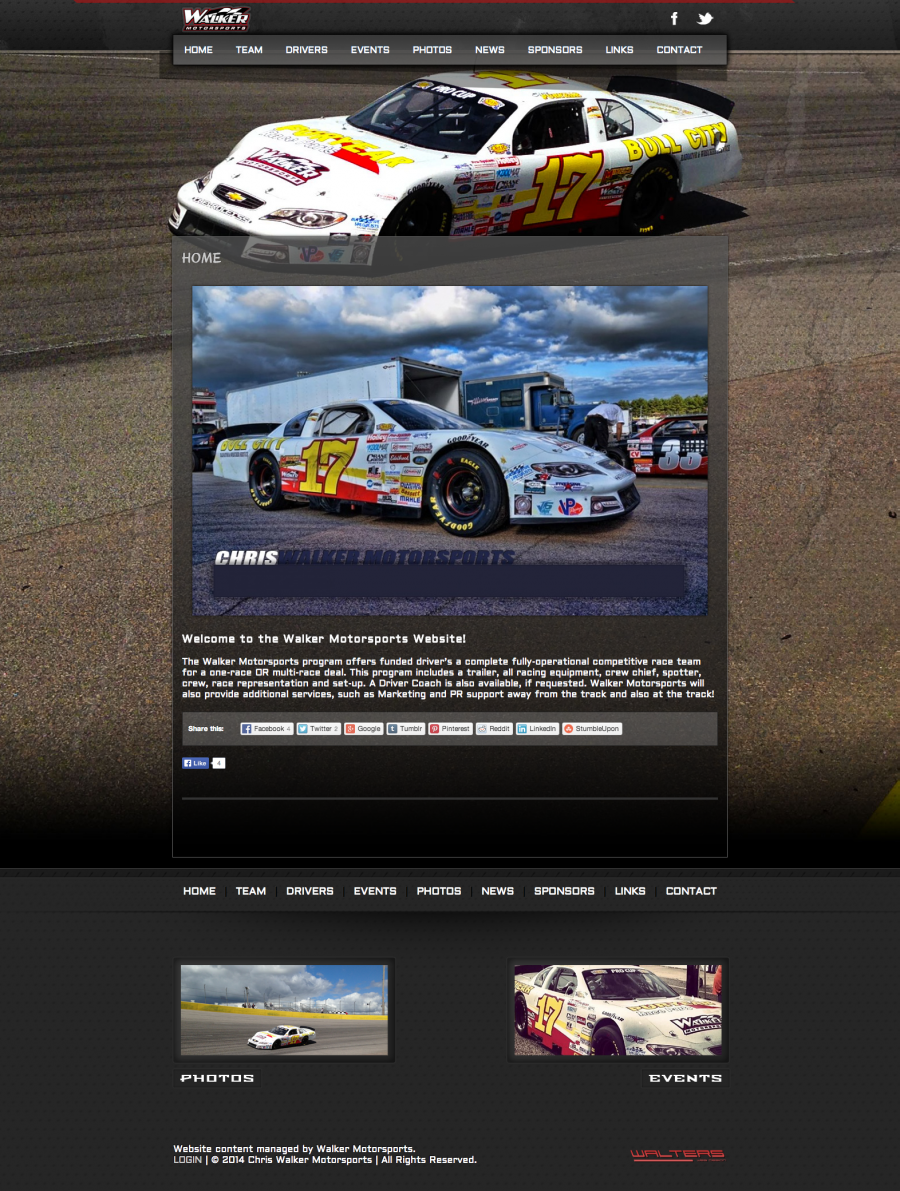 Walker Motorsports Pro Cup Team Website
(FEBRUARY 13th, 2014) XR-1 Pro Cup Team website for Walker Motorsports debut. The team is currently seeking interest to fill their drivers seat. Chris Walker runs a driver development team supplying quality equipment via a possible race winning car. They give you to opportunity to run up front on the Pro Cup tour.
In 2013, driver Stacy Puryear piloted the Walker Motorsports machine in three regular season events and an additional three in the championship rounds. At Southern National Motorsports Park he gave the team the pole and brought the car home just outside of the top 5. The team gave Puryear an average start of 3rd. Puryear led 59 laps thoughout the 2013 season.
Chris Walker Motorsports is ready to put you behind the wheel of a Pro Cup Series racecar and give you a chance to win $8,000.00 every race! You will be given the opportunity to drive at various racetracks from Alabama – Tennessee – Virginia – South Carolina & North Carolina. The team is not just your average race team, they are here to help you improve in your racing abilities and for you to accomplish your racing goals!
The Walker Motorsports program offers funded driver's a complete fully-operational competitive race team for a one-race OR multi-race deal. This program includes a trailer, all racing equipment, crew chief, spotter, crew, race representation and set-up. A Driver Coach is also available, if requested. Walker Motorsports will also provide additional services, such as Marketing and PR support away from the track as well as at the track!
Walker Motorsports is excited to debut their new XR-1 Pro Cup Team website to the motorsports community. Please log on at http://www.ChrisWalkerMotorsports.com to browse the new website.
Walker Motorsports would like to thank all of their sponsors for their help with the upcoming Pro Cup season. These include; Walker Furniture Gallery, Fleet Painting Service and Router Bit Service.
Walker Motorsports is in constant pursuit of new advertising partners. If you are interested in becoming involved with the Pro Cup team please contact them via the team website for more information. Various sponsorship packages are available to fit any budget! They would be happy to explain in detail how motorsports marketing can benefit your business.
Stay tuned to the Pro Cup team website throughout the racing season to receive up to the minute updates. The new team website, managed by Chris Walker Motorsports will be updated regularly with event changes and race results. Be sure to visit the photo albums as well for any race fans entertainment purposes.
Chris Walker Motorsports
http://www.ChrisWalkerMotorsports.com
http://www.facebook.com/pages/Walker-Motorsports/160297650787423
http://www.twitter.com/W_Motorsports

Walters Web Design
http://www.WaltersWebDesign.com
http://www.twitter.com/WaltersWeb
http://www.facebook.com/WaltersWebDesign
Written By: Walters Web Design
About Chris Walker Motorsports
Walker Motorsports is a Pro Cup team based in North Carolina. The team is currently in search of a driver to fill the seat of their race car during the 2014 Pro Cup season.
About Walters Web Design
Founded in 2004, Walters Web Design specializes in motorsports website development and graphic design. We use advertising and social marketing to help facilitate visitors and potential customers to all our client websites. "We take pride in all of our customer websites and we want each design to be better than our last. We feel this is what has put us above all the rest in our industry." Walters Web Design is pleased to partner with 'Walker Motorsports' for the first year and we look forward to working with them far into the future.
Walker Motorsports Pro Cup Team Website Photos