Press Writer
Press Writer Services Are Offered To Bring Traffic To Your Website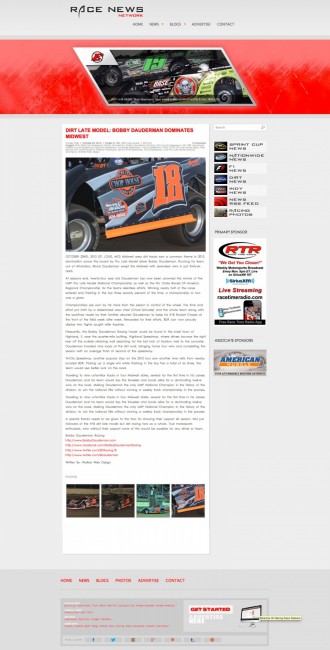 Walters Web Design offers more than just design solutions, we can also become a press writer for your pr needs.
If you need a press writer to create a story for your website, media outlets or social media followers viewing pleasure we are here to help. Beyond just writing we can also submit your press to the media for mass promotion and a substantial return of visitors to your website.
If you just need a simple write up exclusive for your website or if you want a full wide spread release, we have a solution for you or your business.
If you desire a press release written but would only like us to submit it to a handful of websites we can do that for you as well. A full spread media release is not a requirement.
We have press writer packages to fit your needs. In addition to race reports we also offer press for racing series, sponsorship announcements, season recaps and almost anything you feel is press and/or website worthy.
While we try our best to get our stories published on various websites some corners of the internet are harder to reach than others. There is no guarantee the press will be featured on one or many of your desired websites. However, over the years we have built a long list of partnerships with media outlets in the motorsports industry, many of which are happy to publish our articles.
Pricing: $25 – $75
Media Release Pricing: Add $75
Click here to view our press writer portfolio
Contact us today to get started on your logo design or find out more information.