Longdale Speedway Website Launch, New Dirt Track Built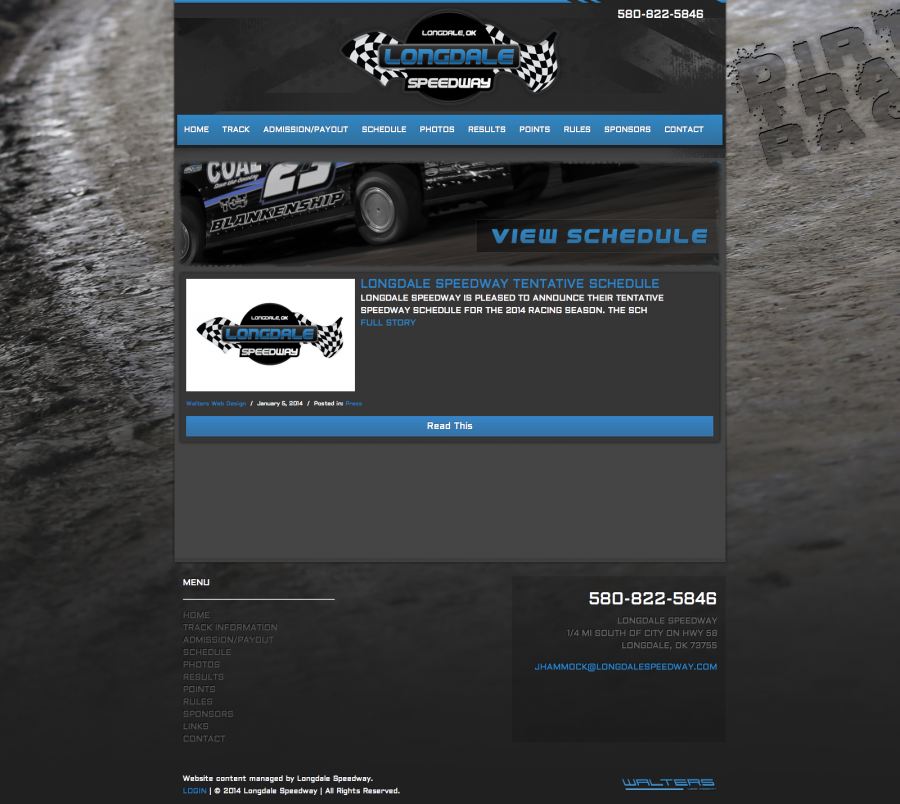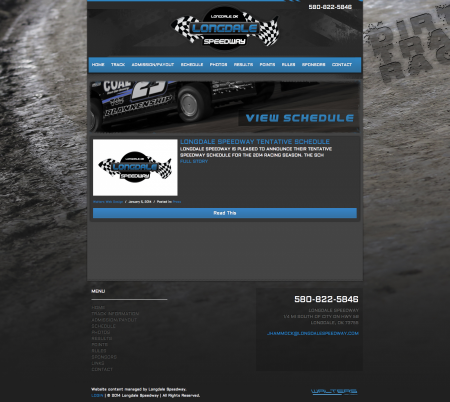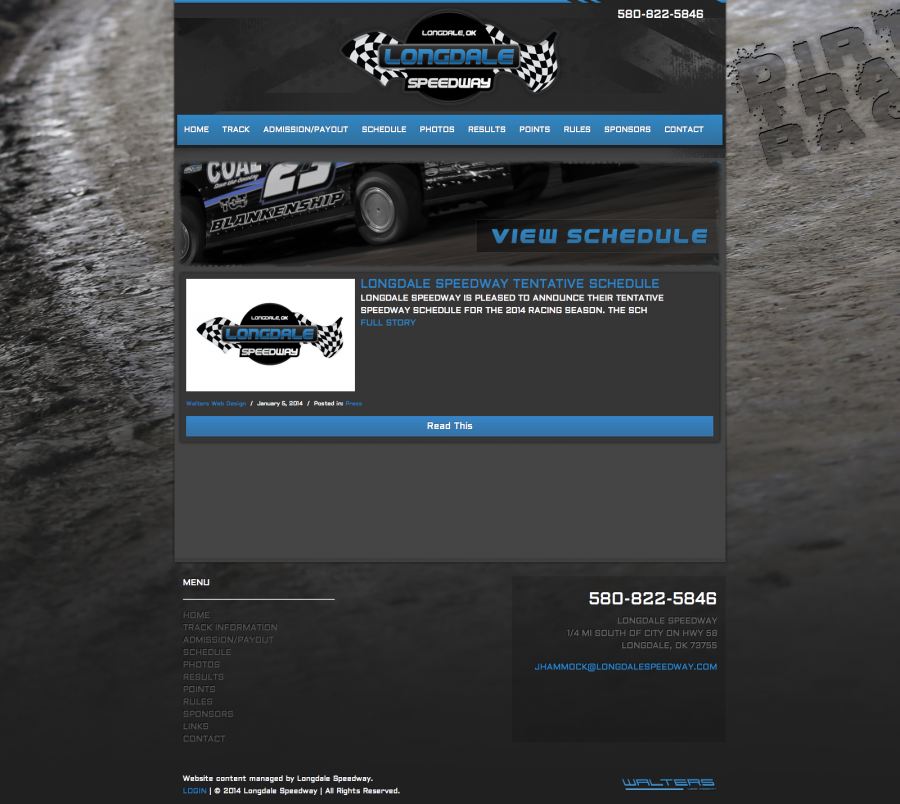 Longdale Speedway Website Launched
(JANUARY 15TH, 2014) Longdale Speedway has been in development over the past several months. Now, as the dirt track quickly approaches it's debut weekend, speedway officials are pleased to announce the launch of the http://www.LongdaleSpeedway.com website to the motorsports community.
Located in Longdale, Oklahoma you will presently find a brand new, high speed, high banked 1/2 mile dirt track. On a weekly basis, dirt modified drivers will throw their high horsepower machines into the 26 degree banking, releasing clumps of clay into the newly poured concrete walls. Exiting the corners, drivers will fly down the 22 degree straightaways only to do it all over again in 3 and 4.
A seating capacity of 2000 and the speedway expects a sold out crowd of dirt racing fans come opening weekend. Fans have been waiting in high anticipation for the duration of the racing off season, the wait is over March 29th.
Opening weekend features just one of several 2 day shows with all the regular speedway classes in attendance. Modifieds, Sport Modifieds, Stock Cars and Pure Stocks will all circle the 1/2 mile chasing season points all while entertaining spectators.
Another prominent date on the schedule, May 16-17. The NCRA 360 Sprints Series will make the sprint car debut at the new speedway. The racing season will wind down October 10-12 for the First Annual Longdale Speedway Winter Nationals. As we advance toward the speedway debut more special events are expected to be added to the now tentative racing schedule.
Please log on at http://www.LongdaleSpeedway.com to browse the new speedway website.
Stay tuned to the speedway website throughout the racing season to receive up to the minute news and race results. The new website will be updated regularly with content. Be sure to visit the photo galleries for any race fans entertainment purposes.
Longdale Speedway
http://www.LongdaleSpeedway.com

Walters Web Design
http://www.WaltersWebDesign.com
http://www.twitter.com/WaltersWeb
http://www.facebook.com/WaltersWebDesign
Author: Walters Web Design
About Longdale Speedway
Longdale Speedway is a high banked 1/2 mile clay oval hosting dirt track racing events in Longdale, Oklahoma.
About Walters Web Design
Founded in 2004, Walters Web Design specializes in motorsports website development and graphic design. We use advertising and social marketing to help facilitate visitors and potential customers to all our client websites. "We take pride in all of our customer websites and we want each design to be better than our last. We feel this is what has put us above all the rest in our industry." Walters Web Design is pleased to partner with 'Longdale Speedway' for the first year and we look forward to working with them far into the future.
Longdale Speedway Photos