Schaeffer's Specialized Lubricants Website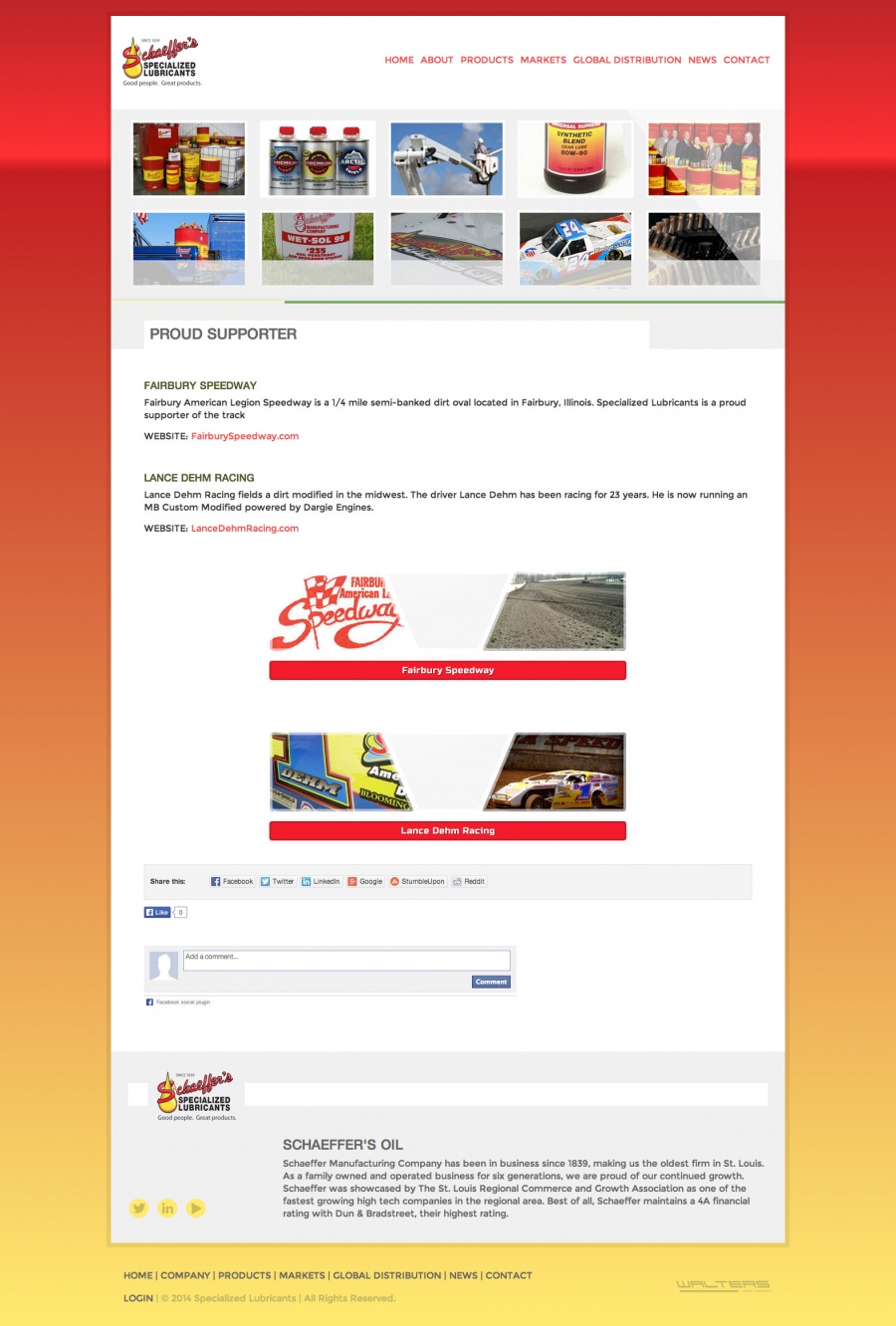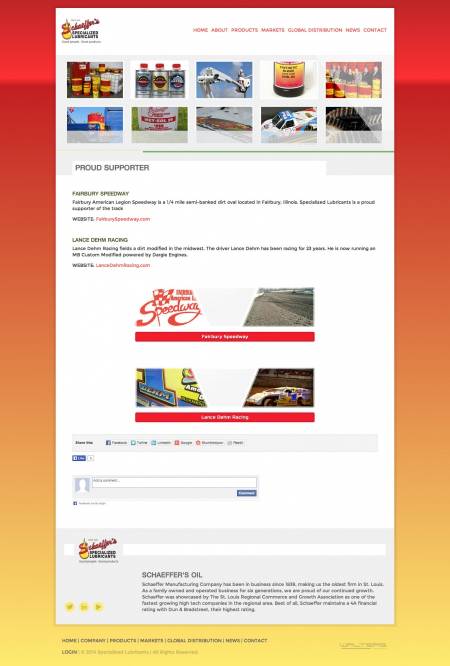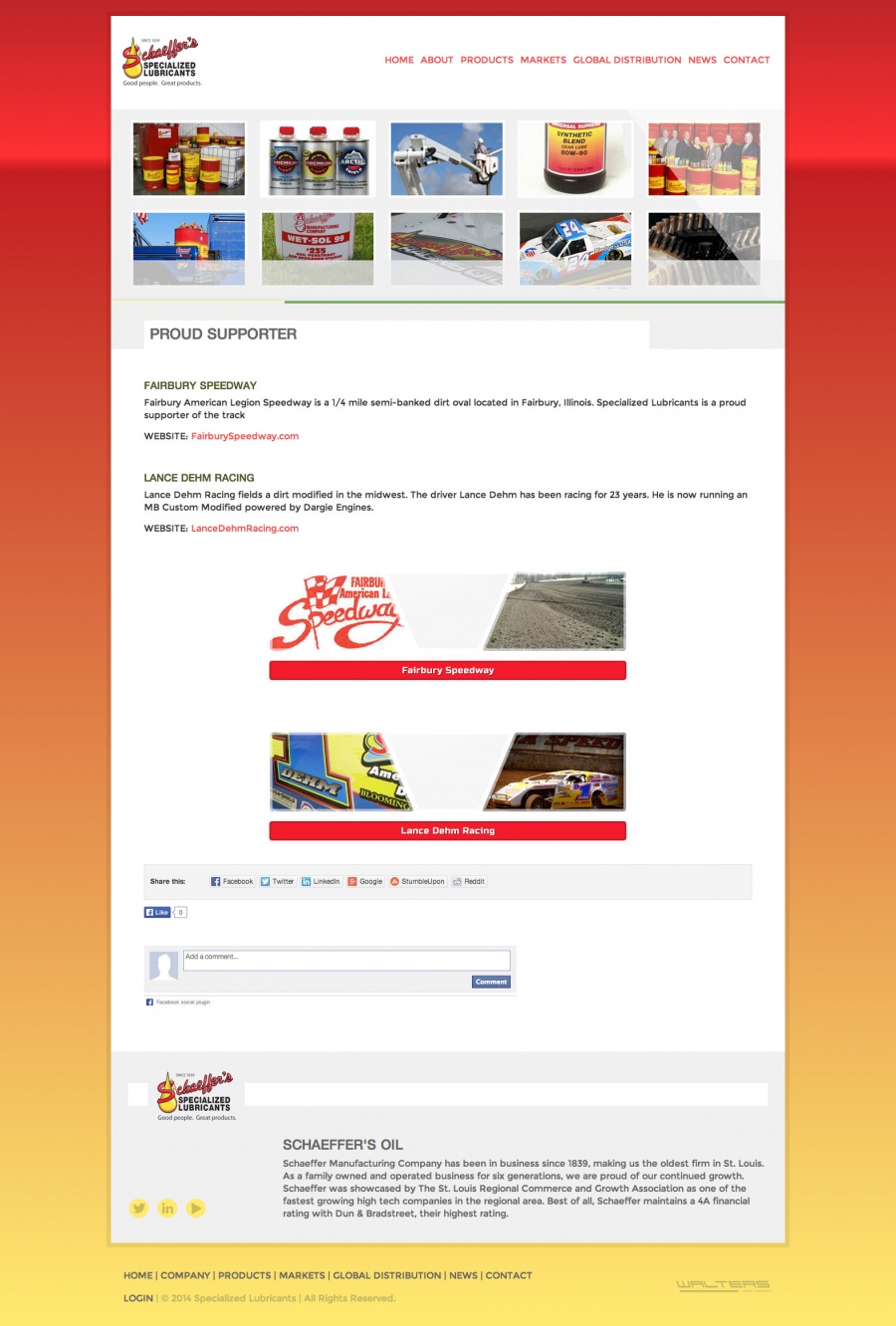 Schaeffer's Specialized Lubricants Website Launched
(MAY 11TH, 2014) Schaeffer's Specialized Lubricants services customers in Illinois and is an international distributor for Schaeffer's Oil in Europe, Asia, South America, Africa. Specialized Lubricants is a dealer in 38 states and are expanding their International Grease and Oil Distributor customer base.
Why do lubricant users and international distributors choose Schaeffer's Oil? Service, ongoing technical support. 100% commitment to provide you with the best lubrication products and education. They save you time and money!
Specialized Lubricants is pleased to debut their new lubricants website to you. Please log on at http://www.SpecializedLubricants.net .
Schaeffers Oil is the oldest oil company in the USA having produced greases for over 165 years.
They have worked with Moly for over 60 years, ISO 9002-certified, NLGI, SAE, STLE etc. They are the master blender of master blenders and develop their own patents such as Penetro and work directly with the largest additive manufacturers on the globe.
Schaeffer Oil is a tier one supplier to the Fortune 500 Companies manufacturing one of a kind greases, engine oils, gear lubes, hydraulic oils, and cutting fluids for these companies. Schaeffer's Specialized Lubricants brings that quality to you!
Try Schaeffer Oil and find out why once you start you will never trust your lubrication to anything else.
Specialized Lubricants
http://www.SpecializedLubricants.net
http://www.twitter.com/MarkASmithIL
Walters Web Design
http://www.WaltersWebDesign.com
http://www.twitter.com/WaltersWeb
http://www.facebook.com/WaltersWebDesign
Written By: Walters Web Design
ABOUT SPECIALIZED LUBRICANTS
Mark A Smith has been a Factory Representative for Schaeffer's Oil since 2003. Mark specializes in setting up distributors for Schaeffer's oil international. FGS lubricants in Germany is the primary Schaeffer's Specialized Lubricant distributor in Europe that works directly with Mark. They are excited to release the new Specialized Lubricants website to you.
ABOUT WALTERS WEB DESIGN
Founded in 2004, Walters Web Design specializes in motorsports website development and graphic design. We use advertising and social marketing to help facilitate visitors and potential customers to all our client websites. "We take pride in all of our customer websites and we want each design to be better than our last. We feel this is what has put us above all the rest in our industry." Walters Web Design is pleased to partner with Specialized Lubricants for the second year and we look forward to working with them far into the future.
Schaeffer's Specialized Lubricants Website Photos