Sage Karam IndyCar Driver Website Launch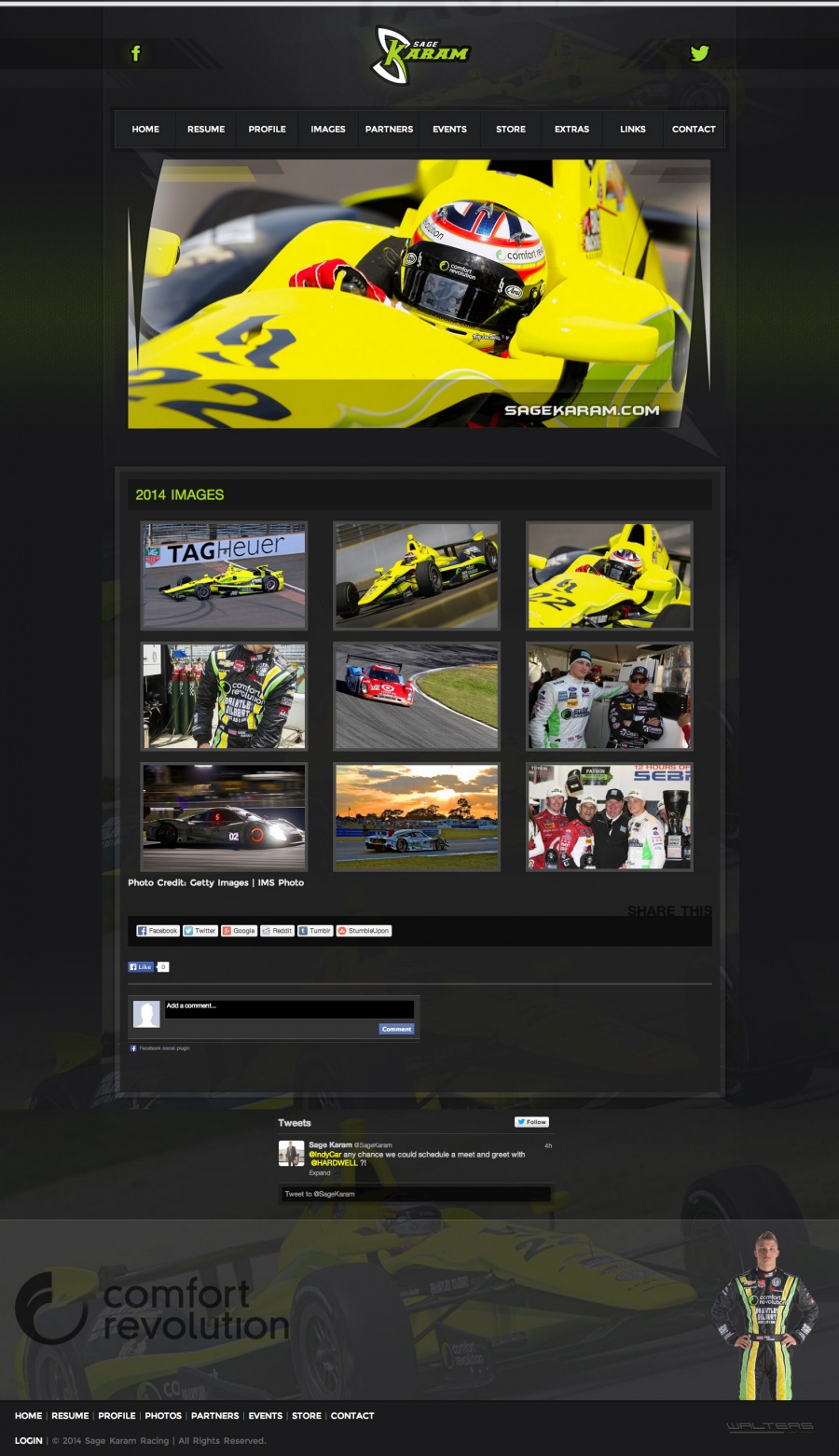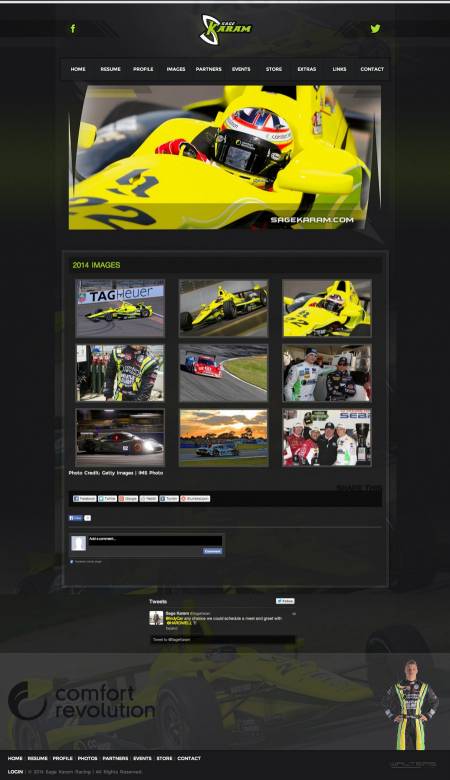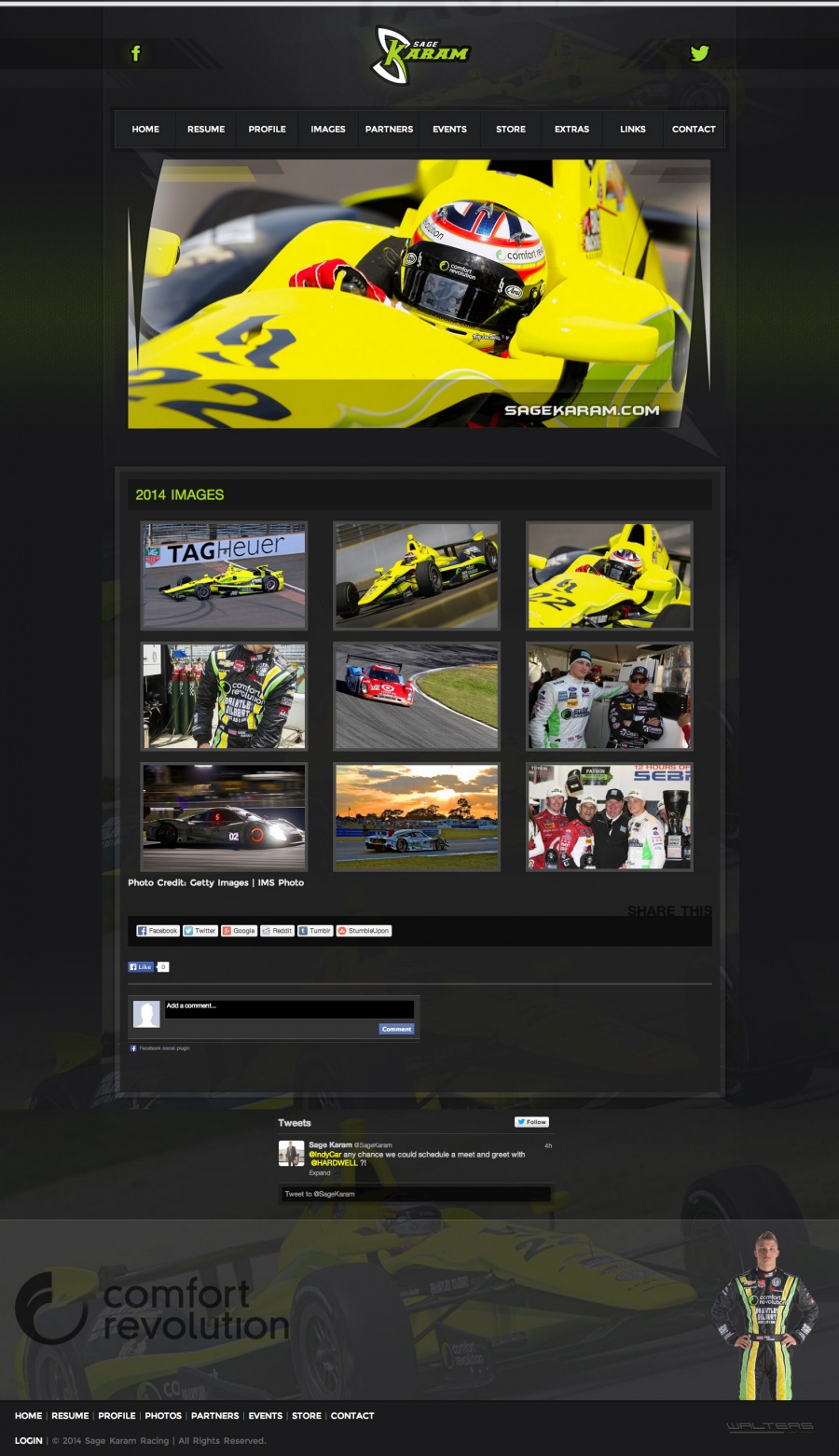 IndyCar Driver Website Released
(MAY 17TH, 2014) Sage Karam rolled into Indianapolis Motor Speedway today. The American driver from Nazareth, PA made his first qualifying run for a place on the 2014 Indy 500 starting grid. He got it!
Following today's results Karam qualified in the 21st position. However, with the new Indy 500 qualifying format Sage will get a chance to improve that time. He could start as high as 10th.
The Chip Ganassi Racing Teams driver is excited to debut his new IndyCar driver website to the motorsports community. Please log on at http://www.SageKaram.com to browse the new website.
Sage Karam has been climbing his way from the bottom to the top of the Verizon IndyCar Series racing ladder. He's won races on every step as well as multiple championships. Last year, he took home the Firestone Indy Lights championship and the million dollar check along with it.
Sage Karam will be running the Comfort Revolution number 22 this week. The car is fielded under the Dreyer & Reinbold Racing umbrella.
Sage Karam Racing would like to thank all of their partners for the season. These include;  Comfort Revolution, The Michael Fux Foundation, TAG Heuer, Body Fuel, Enhanced Performance Nutrition, JBN, Bell Racing, Orwig Apartments, Sparco, GP Sports Management and Alen Lewis Consulting.
Sage Karam Racig is in constant pursuit of new advertising partners. If you are interested in being involved with Sage Karam please visit the contact page of the website for more information. You may also purchase multiple sponsorship packages directly on the website.
The team has many different sponsorship levels available to fit any budget! They would be happy to explain in detail how motorsports marketing can benefit your business.
Stay tuned to the new IndyCar driver website and social media accounts throughout the weekend to receive up to the minute updates. The IndyCar driver website will be updated regularly with team photos, results and any schedule changes that may occur. Be sure to visit the photo albums as well for any race fans entertainment purposes.
Sage Karam
http://www.SageKaram.com
https://www.facebook.com/SageKaram
http://www.twitter.com/SageKaram
http://www.instagram.com/SageKaram
Walters Web Design
http://www.WaltersWebDesign.com
https://www.facebook.com/WaltersWebDesign
http://www.twitter.com/WaltersWeb
http://www.instagram.com/WaltersWeb
Written By: Walters Web Design
About Sage Karam
Sage Karam has won events in every stage of the IndyCar racing ladder thus far. Today, he makes his first qualifying run in the Verizon IndyCar Series. He will be making a run for a starting spot in the 2014 Indianapolis 500.
About Walters Web Design
Founded in 2004, Walters Web Design specializes in automotive website development and graphic design. We use advertising and social marketing to help facilitate visitors and potential customers to all our client websites. "We take pride in all of our customer websites and we want each design to be better than our last. We feel this is what has put us above all the rest in our industry." Walters Web Design is pleased to partner with the 'Sage Karam' for the eighth year and we look forward to working with him far into the future.
Sage Karam IndyCar Driver Website Photos