WALTERS WEB DESIGN FOUNDER LAUNCHES NEW WEBSITE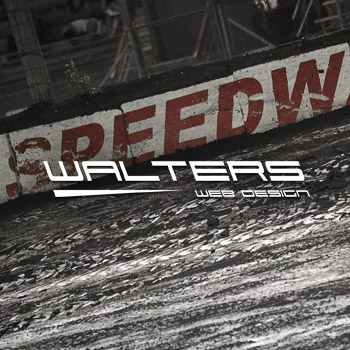 APRIL 9TH, 2012 (ST. LOUIS, MO) I founded Walters Web Design in 2004 and since then thousands of hours have been spent moving a mouse in circles attempting to create the most eye appealing websites possible. 8 years and 300 website designs later I feel I have succeeded providing internet presence for drivers, teams and companies specifically in the motorsports industry.
Beyond website development I have pursued a racing career with the main intent of feeding a cold blooded addition to the sport. In recent years racing has led me to high powered, light weight road racing karts following the SKUSA Pro Tour and now defunct STARS of Karting Series. However, in the past I have piloted dirt oval cars and have plans to return to oval racing scene in the future because that form of racing fits my driving style much better than turning left followed by right hander or two.
I have a long list of halfway pursued hobbies that I try to fill as much as my time with as possible. Many years ago I picked up a camera and started snapping pictures of karts as they flew by at 100+mph. Until recently this hobby was held strictly in the presence of a racing surface. Recently, I have began taking photos beyond the gates of a motorsports complex, most of these pictures are posted on my new website. I have many locations in mind that I would like to visit soon, those photos when taken will also be posted.
Please point your web browsers to my new website http://www.ShaneWalters.net to browse photos throughout my racing career, among much more racing related content. You can also view photo albums from around the St. Louis area that I have recently snapped. A single blog post has also been placed on the site as well, though I have plans to expand this section of the site in the future.
Follow me on twitter at http://www.twitter.com/ShaneDWalters and subscribe to my facebook timeline on http://www.facebook.com/ShaneWaltersOnline both of which are updated on a regular basis.
For more information on motorsports design team Walters Web Design please visit us online at http://www.WaltersWebDesign.com . To receive the latest race team news, photos, videos, results, website and graphic releases please follow us on twitter at http://www.twitter.com/WaltersWeb and we are also on facebook at http://www.facebook.com/WaltersWebDesign .
Written By: Shane Walters
About Shane Walters
Current SKUSA Pro Tour karting driver with a full list of hobbies halfway pursued. I'm also the sole founder of Walters Web Design and as a result I spend most of my day moving a mouse in circles. The rest of my day is spent brainstorming the darkest corners of my thoughts for the most offensive, off the wall and embarrassing twitter posts I can possibly create. Why? So the content of my account is greatly divided from the average twitter user and perhaps install a smile on your face at my expense.
About Walters Web Design
Founded in 2004, Walters Web Design specializes in motorsports website development and graphic design. We use advertising and social marketing to help facilitate visitors and potential customers to all our client websites. "We take pride in all of our customer websites and we want each design to be better than our last. We feel this is what has put us above all the rest in our industry."